Inspiring possibilities:
Behind the scenes of our display homes
To say that Regent Homes display homes are different is an understatement. 
Our beautiful homes showcase features that you wont find elsewhere in Adelaide or across Australia and in order to show you what's possible when you build a new home, we aim to surprise, inspire and delight.
The peak of modern living
When you walk into a Regent Homes display, your mind will be filled with ideas and possibilities.
Our stunning homes incorporate emerging trends throughout Europe that will be prolific in Australia over the next few years. We also take into account the way people want to live today, for example with a dedicated workspace rather than a desk in the corner of a living area and ample natural light to make the home feel spacious and refreshing.
If you're building a brand new home, you'll definitely be impressed by the independent living zones, which are perfect for guests or teens who are becoming more self-sufficient. Then there's the 'wow factor' of the wine rooms featured in our display homes, which offer an impressive focal point and really gets home builders thinking about how to add value and appeal to their own place.
Our display homes are also the only fully automated display homes in South Australia. This gives visitors a spot-on idea of how much easier a connected life can be. Want to know what the master suite is like with the curtains shut? At our display homes, you only need to say "Hey Google, bedtime", and they will close automatically.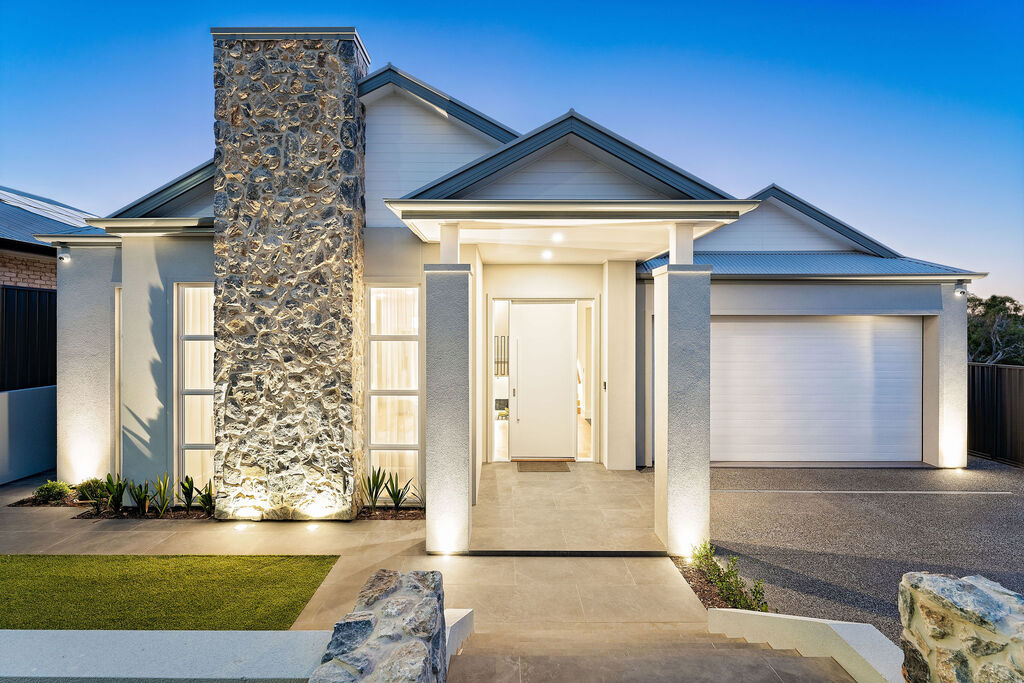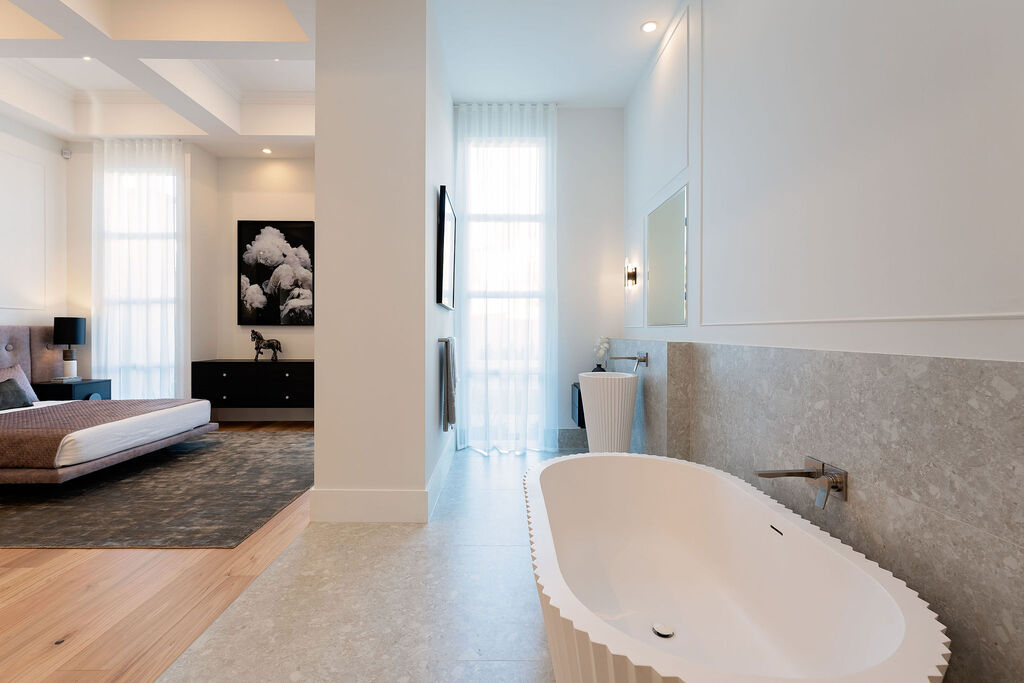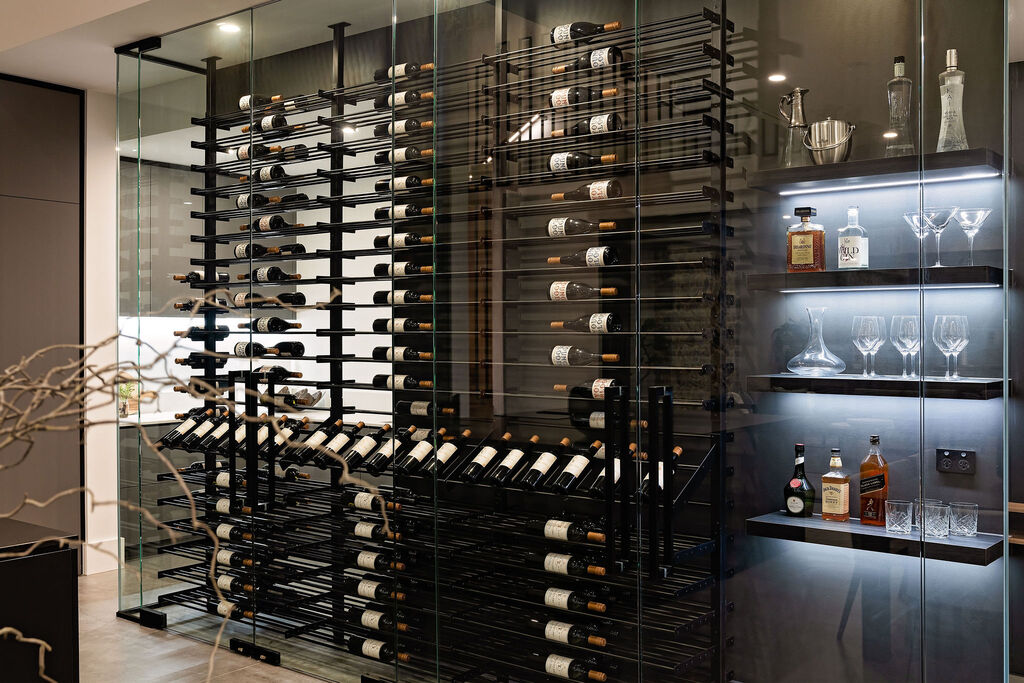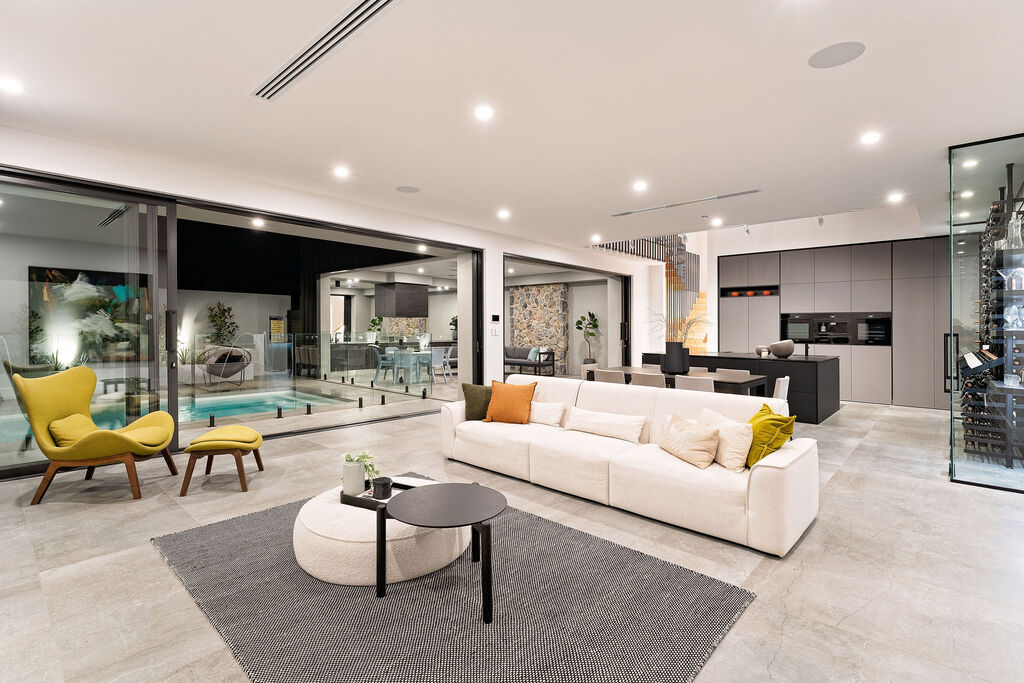 Visit our new display home at Blackwood Park
Opened recently to the public, our latest display home at Blackwood Park showcases incredible possibilities for home-buyers. No expense has been spared to create this home, which features the latest technology, design and materials.
The Blackwood display home was made to stand out. Two years in the making, its architectural design accommodates a tricky slope but still ensures every box for luxury and easy living is ticked.
The experience starts from the footpath, which brings visitors to the front door. "When you walk in, we want you to want to stay," explains Zest Living's Susan Dodd, who oversaw the interior design for The Blackwood. "The feel is a mixture of Hamptons and French Classic, which we knew would have wide appeal."
Walk into this home and you'll immediately notice the high ceilings and intuitive floor plan. Explore the stylish master bedroom ensuite on the top floor to see the unique 'cupcake' bathtub and Art-deco inspired sanitaryware that Susan explains, "You won't find anywhere else in South Australia."
As you head downstairs, you'll spot the cleverly designed 'lineal balustrade', another feature that's made to stand out. The main floor lends itself to open plan, indoor/outdoor living, with an oversized kitchen island and seamlessly finished flooring that flows from inside to out. "We used a brand new flooring product, beautiful large slabs which are totally weatherproof and work as well inside as they do outside," says Susan.
Sliding door channels are fully recessed so there isn't even a threshold dividing the interior and outdoor area. Pull the doors right back and the kitchen, living area, outdoor area and pool become 'just one room'.
From the butler's pantry to the home offices and joinery, an extreme level of attention to detail has been paid to every feature. "Life has changed due to COVID and things are very different from a few years ago," Susan explains, "Regent's display homes keep modern lifestyles in mind."
The goal of The Blackwood is to inspire people's imaginations. "We have tried to showcase a range of different materials and ideas," Susan explains. "There are also numerous subtle touches which take into account the way people see and absorb something new. Every feature is purpose-designed to cleverly draw the eye around each space, and there are so many intriguing examples of what can be done in a brand new home. "
Visit Regent Homes' Blackwood Park display home
While this is a luxury property with no expense spared, you don't have to worry about your own budget. If you are a motivated home builder, visiting a Regent Homes display home will give you the chance to see what's possible. The next step is to sit down with a designer and go over the options that will work for your budget, property size and requirements.
You can visit our Blackwood and Lightsview display homes on Saturdays and Sundays from midday until 5 pm, or on Monday and Wednesday afternoons.
Don't miss the opportunity to visit this stunning display home. Contact Regent Homes to find out more about opening times.